INTRODUCTION
COMPAS (Comparing and Supporting Endogenous Development) programme is a network of organizations from Asia, Africa, Latin America and Europe who are working on the current relevance and applications of traditional knowledge systems in varied areas. Centre for Indian Knowledge Systems has been part of the COMPAS network since its inception in 1995 and we are also currently the Asian Coordinators of this programme.
The COMPAS programme commenced in the year 1995 – 1996 as a pilot project where preliminary studies were carried out in three different regions in Asia, Africa and Latin America. Following this, during the period 1998 to 2002 the first phase of the programme was implemented wherein extensive documentation and field studies were carried out on various aspects of traditional knowledge systems. Following this, during the next phase between the years 2003 – 2006 there was an extensive programme for testing and validation of traditional knowledge in the field area and initial attempts were made to build the capacity of field groups for documentation and research by tying up with universities, researchers and traditional scholars.
During this phase of the COMPAS programme, CIKS was concentrating mainly on conservation and utilization of traditional varieties of seeds as well as the research and propagation of biopesticides based on traditional knowledge. As part of the field programme, our Centre has been involved in conserving traditional varieties of seeds. This programme has been carried out in the districts of Thiruvallur, Thiruvannamalai, Kancheepuram and Nagapattinam in Tamil Nadu. In situ seed conservation centres have been set up in several farmers fields. About 100 traditional paddy varieties are being conserved. Simultaneously there is also a programme for conservation and propagation of traditional vegetable varieties. Organic packages for all these crops are also being worked out based on traditional agricultural practices. As part of this programme research on identified topics has also been taken up in collaboration with scientists and scholars. The focus area for this research has been development, standardization and utilization of biopesticides based on plant products and storage forms of these biopesticides prepared based on Ayurvedic techniques. Experiments have been carried out with collaboration and help from the Agricultural College of Annamalai University at Chidambaram and involvement of traditional and Ayurvedic scholars.
During this period, CIKS has also been the Coordinator of the COMPAS Asian programme. The COMPAS Asian programme has four partners in India and a network of five partners in Sri Lanka. The partners are working on varied themes including – traditional agriculture and seed conservation, Vrkshayurveda, biodiversity conservation, handling of human-elephant conflicts in Sri Lanka, traditional healthcare, research in speciality areas of traditional medicine including bone setting and treatment for poisons and a programme on traditional architecture (Vaastu) in Sri Lanka. All the Asian partners got together at a meeting in Sri Lanka in October 2005 and once again in Poland in September 2006.
There were also exchange programmes in which a group of Nattu Vaidyas from Sri Lanka toured South India and met with traditional medical scholars and practitioners. One of the COMPAS partners (FRLHT) also organized a training programme on the documentation and assessment of local health traditions for the Sri Lankan partners in 2005. Besides this, all the Indian partners were also involved in a coordinated research effort on the topic of the use of animal products in traditional agriculture. CIKS has also been maintaining the website of the international COMPAS project which is a bilingual website in English and Spanish. The Asian partners participated in the Poland international conference on Endogenous Development and Biocultural Diversity that was organized in the Centre for Development and Environment, Geneva, Switzerland in October 2006. During this period, the COMPAS partners were also involved in collaborated programmes with two universities. FRLHT had developed modules for education on traditional systems of medicine in collaboration with the RGUHS at Bangalore. The Gandhigram Rural University at Gandhigram, Tamil Nadu had also collaborated with the COMPAS programme to conduct a series of training programmes on traditional agriculture for NGOs, farmers and extension workers.
COMPAS PROGRAMME 2007 – 2010
During this phase of the COMPAS programme, emphasis will be on upscaling the activities and mainstreaming them. The activities have been carried out with a broad thrust on Community Led Natural Resources Management (CNRM).
As part of this effort, the following components were implemented by CIKS:
Field programmes in two different districts of Tamil Nadu. This is for building capacity on various aspects of sustainable agriculture based on traditional practices.
Developing and refining the methodology for endogenous development focusing on research relating to biopesticides. As part of this programme, collaborative efforts are being launched with scientists and researchers at agricultural universities on the one hand and the involvement of Ayurvedic and other traditional scholars on the other hand.
A series of training programmes are also being planned towards building capacities of field staff and technical staff for undertaking research and community-based organizations on various aspects of traditional knowledge.
CIKS was also involved in coordinating national level activities with the other COMPAS partners. This includes training programmes at the national level, organizing and promoting exchange visits, awareness raising through publications and meetings as well as initiating policy dialogue.
ACTIVITIES IMPLEMENTED
EXPERIMENT ON TOMATO IN COLLABORATION WITH ANNAMALAI UNIVERSITY
An experiment on ecofriendly management of Fusarial wilt disease in Tomato crop was conducted in collaboration with Department of Pathology, Annamalai University. This experiment on seed treatment was undertaken to evaluate the effect of various natural products (Cow's milk and Sweet flag powder) for the management of incidence of Fusarial wilt disease in Tomato crop. Among the treatments seeds soaked in cow's milk and then fumigated with Sweet flag powder shows effective inhibition against the incidence of Fusarial wilt disease in Tomato. This particular treatment also shows a significant increase in vegetative growth and yield. In vitro evaluation shows that Sweet flag powder has got significant inhibitory effect against Fusarium oxysporum f.sp. lycopersia. Seeds treated in natural products show a high inhibitory effect against Fusarial wilt when maintained in pot culture than in the field conditions. Seeds treated with natural products alone would not protect the crop from wilt disease throughout crop period. So, repeated application of natural products may be required for complete inhibition against the incidence of disease.
A baseline survey has been conducted in Thiruvanamalai district among 25 farmers to study the cost of cultivation of Paddy and the net returns generated by conventional method of farming.
Organic package for banana has been prepared in Tamil language. The package includes a selection of planting material, seed treatment, land preparation, nutrient management, water management, weed management, propping technique, pest and disease management and harvest.
Experiments to develop an organic package of practices for sugarcane were conducted in  Adhamangalam village of Nagapattinam district.
Characters of sixty traditional varieties of Paddy have been documented and photos collected wherever available.
In the samba season of 2008, 10 farmers from Srikazhi taluk of Nagapattinam district cultivated and conserved 10 traditional paddy varieties.
Testing the efficacy of fumigation on seed germination using sweet flag at different concentrations in different fumigation period in Brinjal, Chilli and Lady's finger crop under laboratory and field trials has been completed.
Five Standard Operating Procedures have been developed for various activities.
A farmers' scientists' interaction to evolve solutions for the problems faced in adopting SRI (System of Rice Intensification) method of cultivation involving farmers and scientists from Universities and Research stations was conducted.
Trainers training programme for farmers have been conducted on organic farming and the staff of CIKS and farmers have participated in exhibitions and meetings
The importance of Internal Control Systems (ICS) for organic certification and problems faced during adoption were taken as a topic and farmers were trained using the creative learning techniques imbibed during the training of ED facilitators held at Sri Lanka in August 2008. A total of 18 farmers actively participated in the training.
A book titled "Use of animal products in agriculture" has been published. Development of curriculum for schools on Natural Resource Management was done.
OTHER ACTIVITIES
Experiments and surveys have been conducted on the management of rats in paddy fields by the traditional method. Rat management was done with the help of Irula expertise in farmers' fields at Sirkazhi taluk. Rat management method facilitated by CIKS was welcomed by the farmers who wanted it to be repeated again whenever rat population went beyond control.
Documentation of characteristics of 16 traditional paddy varieties that are conserved by CIKS has been completed in the Department of Plant Pathology, Annamalai University.
PUBLICATION
Endogenous Development in India – Revisiting Swadeshi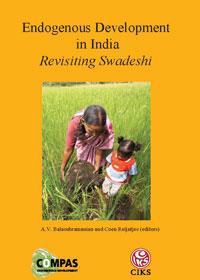 As a part of this project, a book entitled "Endogenous Development in India – Revisiting Swadeshi" has been published. The objective of this publication is to provide an overview regarding the experiences of the Indian partners in the area of endogenous development during the previous phase of the COMPAS project that concluded in December 2006. This also includes a chapter where the Indian experience has been synthesized based on inputs that have been received from all the partners.