INTRODUCTION
The Nagapattinam district of Tamil Nadu was the worst affected by the tsunami in December 2004. The death toll was very high in this district. Large stretches of agricultural lands were damaged. The standing crops were destroyed and became unfit for cultivation due to the influx of seawater.
Our Centre decided to work long term in the restoration of agricultural lands affected by the tsunami. A project was taken up with support from Wetlands International South Asia. This project was implemented for a period of nine months from July 2006 to March 2007.
MAIN OBJECTIVES OF THE PROGRAMME
Agricultural restoration of tsunami-affected coastal soil through organic cultivation techniques.

Tapping of available sweet water in the coastal areas.
Livelihood and capacity building for small and marginal farmers in organic farming.
SUMMARY OF THE ACHIEVEMENTS
Fifteen training programmes on organic cultivation of paddy, black gram and groundnut were conducted for 413 farmers from 26 villages of Nagapattinam and Pondicherry. A training programme was also organized for the NGO staff in August 2006. Twenty-six members from 14 NGOs participated in this programme.
Nine types of vegetable seeds were distributed to 40 women farmers of Sithivinayagapuram for raising kitchen gardens.
A community biopesticide unit has been set up in Sithivinayagapuram village.
Fifteen vermicompost tanks have been constructed. Thirteen in Sithivinayagapuram and one each in Iruvakollai and Vembadi village.
Forty selected farmers were organized under the organic farmers group named "Udhayanila".
Inputs were distributed to the farmers through the group (Udayanila) and equally shared among the members.
Monthly meeting were organized in order to strengthen the group. During this meeting CIKS staff used to share some of the ideas important to agriculture related issues such as ill effects of chemical pesticides, planting of trees, water conservation aspects, introduction of new schemes by Government, equipments etc.
Organic groundnut cultivation was carried out in 10 acres of Koozhaiyar village.
Soil samples (214 samples) collected from five villages of Sirkazhi taluk were analyzed for parameters such as N, P, K, pH and EC and 20 water samples collected from farm ponds were analyzed for pH & EC.
Nine farm ponds were desilted in three villages of Sirkazhi taluk.
Cashew nut saplings had been planted in 10 acres in two villages of Sirkazhi taluk.
A paddy demonstration plot was laid in one-acre area in Sitthivinayagapuram village to analyse the performance of certain traditional paddy varieties. Soorankuruvai variety was found to perform the best.
A booklet "Tsunamiyum vivasayikalin maruvazhvum", a compilation of the experiences of various NGOs in tsunami affected areas has been published in Tamil. Copies are being distributed to farmers and NGOs.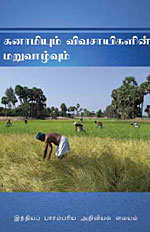 WORK DONE DURING THE SECOND PHASE OF THE PROJECT (JULY' 07 – DEC '07)
Following are the work done during the second phase of this project.
Summer ploughing was done in 40 acres using disc plough to expose the weed seeds and to reduce weed intensification in Sitthivinayagapuram village.
Ten vermicompost units have been constructed for ten farmers in Sitthivinayagapuram village.
Kitchen gardens have been set up in 22 households of Sitthivinayagapuram village. Nearly seven varieties of vegetables have been cultivated in these kitchen gardens.
Organic paddy cultivation was practised in 40 acres at Sitthivinayagapuram village. Inputs such as neem cake, vermicompost were also distributed to them.
Demonstration of the functioning of seed drill and drum seeder was done in one acre in Madavamedu village, a village near Sitthivinayagapuram. More than 30 farmers are now aware of the advantages of these equipment.

SOPs for preparing biopesticide were taught to the women employed in the community biopesticides unit. Biopesticides prepared in the unit were distributed to the farmers of Sitthivinayagapuram village. Pamphlets on the extracts available in the biopesticides unit were distributed to more than 100 farmers from near by villages. A decorticator has been designed for removing the hard shell of the neem seeds.
Three training programmes on organic farming were conducted for the farmers of Thandavankulam, Vedharanium and Sitthivinayagapuram between August and September 2007 respectively. A total of 90 farmers benefited through these training programmes.
TRAININGS
Three training programmes on organic farming were conducted for the farmers of Thandavankulam, Vedharanium and Sitthivinayagapuram between August and September 2007 respectively. A total of 90 farmers benefited through these training programmes. The participants were trained on various topics vermicompost production, biopesticide preparation, non-chemical methods of pest and disease management in paddy, organic paddy cultivation and use of seed drill in dry land cultivation.
As a part of strengthening the community biopesticide unit at Sitthivinayagapuram, training on Standard Operating Procedures (SOP's) for biopesticides preparation and maintenance of records was given to women staff employed in biopesticide unit.